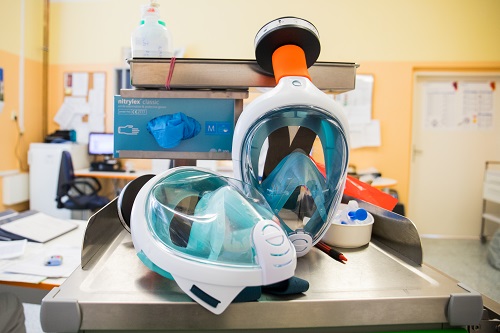 The COVID19 CZ Initiative originated primarily with the aim of helping rescue services, which are currently lacking the means of protection and safety equipment. We bring together experts in crisis sectors and interested people from the general public. We do this work voluntarily and believe that we will help where it is most needed.
In a very short time, we have worked intensively through research and development to develop an affordable solution to prevent infections from contact with infectious disease COVID-19, and we believe that we will quickly distribute it to all professionals so that they can perform their work safely and securely.
Our protective equipment is a full face mask with a P3R replaceable filter whose protection level is higher than the FFP3 filter.
This mask was created by modifying snorkeling sports masks that comply with the essential requirements of Regulation (EU) 2016/425 of the European Parliament and of the Council on personal protective equipment with P3R certified filters.
Completion and efficiency of the product have been subjected to laboratory analyzes, but the complete protective mask with filter has no certificate yet! Please see our disclaimer.
If you have any ideas for improvement, please contact us at info@covmask.czThe address is not for ordering masks. Learn how to get a mask.
Map of facilities that already use Covmask
Count of shipped masks
Version for woman:
Version for man:
User manual for v2_P3R mask
User manual for P3 R filter AVEC
White paper
OPEN CZECH VERSION (PDF)
OPEN ENGLISH VERSION (PDF)
Mask presentation
Surface disinfection and sterilization
Electron microscope analysis